Entertainment
Cyclists protest death of one of them along Thika Road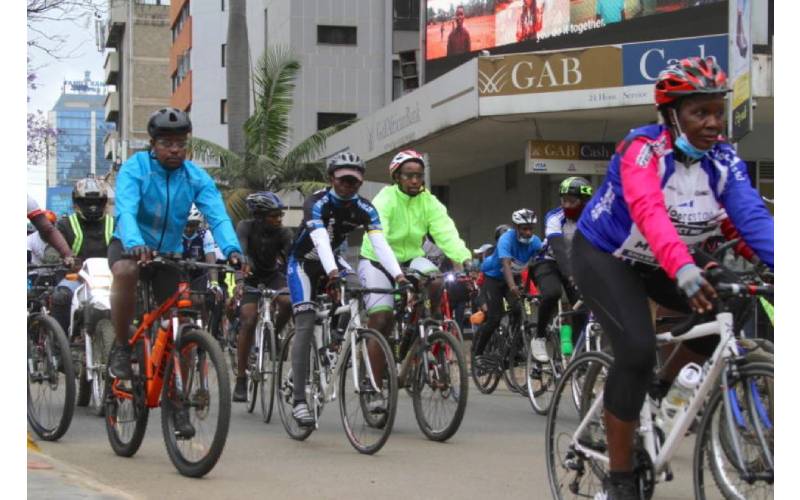 At 22, Caleb Omwoyo had a bright future ahead of him. Omwoyo, also known as 'Belac' was an Engineering student at Technical University of Kenya where he was in his final year of study. He was also running a delivery business on the side, in partnership with a group of other cyclists and looked forward to graduation in a few months. All his dreams would, however, be brought to a screeching halt last Thursday when he was hit by a bus along Thika road in the company of his friends, killing him on the spot.
Yesterday, Omwoyo's devastated friends and cyclists drawn from various cycling clubs held a protest to demand justice. The procession of bikes started at Jevanjee Gardens in the city centre to the spot along Thika Road where Omwoyo died. Cyprine Odaga, one of the coordinators of the demo told The Standard on Sunday that many cases around the country go unreported.
"We have many fatalities and injuries of cyclists mainly because the traffic rules and the road designs are not pro-cycling. The introduction of cycling lanes by the Nairobi Metropolitan Services is commendable but now we need more of such for suburbs and other towns in Kenya," Odaga said.
The cyclists now want to table a petition on Tuesday to craft policies for cyclists' inclusion in the road safety rules. Gideon Ritho, who has suffered the cruelty of motorists recalled how he was knocked down by a private car driver while cycling a few weeks ago. He was lucky he was recording his journey while cycling and that is why his offender was arrested and Ritho was compensated.
Although the mini cameras used by riders and cyclers are expensive, he encouraged cyclists to record their cycling journeys as those act as evidence that help police. The cyclists are now demanding that the deceased's family be compensated and the perpetrators brought to book.
Nairobi Women Representative Esther Passaris, who joined the protesters yesterday called on motorists to be mindful of cyclists, adding that there is need for insurance companies to compensate victims of such accidents. She said she will table an amendment to the Transport Act that will protect the non-motor road users against intimidation by motorists.