Lifestyle
Men Only: Guardian angel needed for their love to last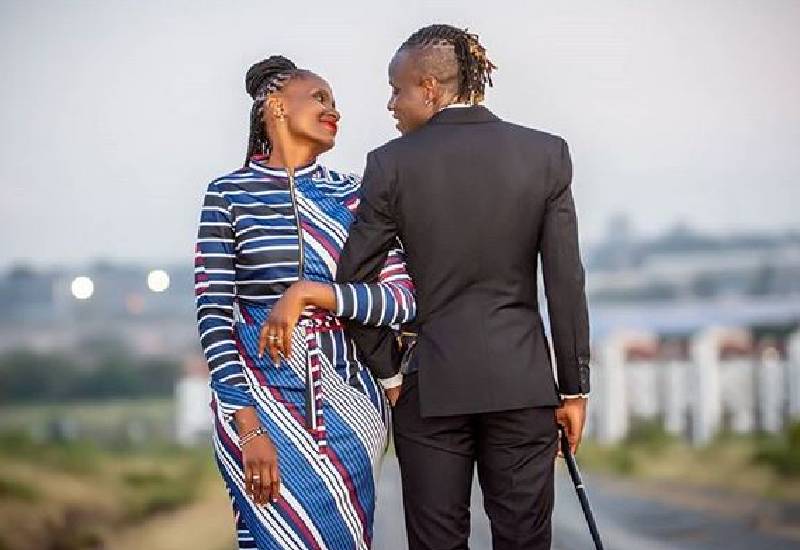 In the pictures that they have posed for, fit 50-year-old mother of three (and UN worker) Esther Musila, and her new boyfriend Audiphaxad Omweka, who is in his late 20s, look good.
Esther, the mum of a 29, 26 and 22-year-old, and Omweka (better known as gospel singer 'Guardian Angel'), remain defiant about their love brewed during this time of corona.
'I turned 50 in May,' Esther says, 'and decided that if I live to be 72, like my late mother did, then my life has to begin at 50, after everything that I've been through.'
Guardian Angel, on his part, confesses that Madam Musila is literally his 'guardian angel.'
'I was going to bed depressed about my career, thinking of throwing in the towel, when my 'wife' came in and saved my life ...' In other words, Madam Musila came in with not just money for his new single, 'Roho Yangu,' but also for his charity foundation, for which he says he will be forever grateful.
Let me tell you a story about my 'older girlfriend' situation. When I was 20, a 28-year old woman we'll call Bertha Blue came into my life for a few magical months, like I met her in September, and we had a beautiful 'dose' till November.
I was in Campus, she actually had a job, to which she wore short business skirts, stockings and smelled of designer perfume. She made all the estate beauties and college girls I'd been pining after, up to that point, seem so young and immature and ... ordinary!
That December, Bertha Blue just kinda disappeared, and months later, I heard she'd gotten married to this older dude in his late 30s to whom she'd been engaged to for three years, and that was that. I had been her last hurrah!
In this case, Esther Musila has decided that with middle age upon her, she may as well have 'fun' in life for however long it lasts, even if her love interest is the age of her first born (some reports even say he could be younger than her second born child).
As I told you last week, I'm no romantic, so I am going to be brutally honest as I dissect the young man's motives, because as you all know, 'Men Only' understands mankind, totally. I can smash his reasons into four 'S' words for purposes of this piece this Saturday.
1. Security - The financial security that Madam Musila offers this young man. Instead of him sweating over cheap liquor to get some random 20-year-old lass he wishes to bring home, sasa kuna vile Omweka amewekwa, with even his singles and studio time backed by hard Kenyan shillings he doesn't have to sweat for.
2. Sexuality - With this older woman, Guardian Angel is obviously dealing with a woman who knows exactly what it is she wants in the sack, and not those young girls of 20 who say: "Omweka, umesema ati utaweka kichwa tu?"
3. Superiority - There's a perverse trophy-like element for Guardian Angel to this picture. In the same way men of a certain age get a rise out of being seen with girlfriends half their age, he is certainly getting an ego thrill out of having conquered the heart of a fit older woman, twice his age, as his pals all admiringly ask him how he netted this fine fish.
4. Sigmund - As in Sigmund Freud, because there is certainly something Oedipal about dating a woman 20 to quarter a century older than you, terrain I will not explore, but that you can Google, and is the territory of shrinks (or GILFs, on certain sites).
What I worry about, for Esther, is that the boy, in another five years, may be chasing college lasses, and in another ten, when she is 60, want children of his own. But what do I know?
President Macron met France's current first lady when he was 16, and she was his drama teacher, and a married mother of two, yet they had an affair, and are still together.
Maybe in 2042, Omweka will be president of Kenya, with mademoiselle Musila as our 72-year-old First Lady. Then when Internet trolls call her a 'poacher' (of young men), he'll arrest them.
Previous Article

Natural ways to detoxify your hair