Entertainment
Don't disrespect me: Femi One tells Kenyans not to compare her rapping skills to Diana Marua's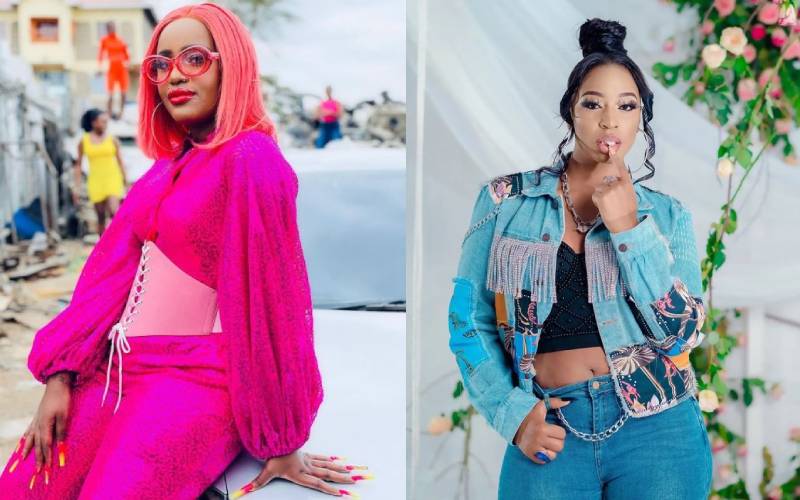 Rapper Femi One has expressed disappointment after netizens compared her rapping skills to newly minted rapper Diana B.
During an interview with PlugTV, the Utawezana singer said that anyone, including the social media personality, could try their luck at rapping.
"I mean it is showbiz and it is entertainment… she entertained me. So she is just okay. She is fine. Really… she is just okay. I am not a gatekeeper, so whoever feels they want to rap should throw themselves in the rap field with us and work hard," she said.
Femi One, however, told netizens not to compare her to Diana Marua as she has been in the game longer than the YouTuber. She said she could only be compared to Nyashinski.
"Do not disrespect me like that… I am Femi One. I have experience. I have rapped for so many years. I only compete with the likes of Nyashinski. Those others have a really long way to go before they get to where I am. But with rap, I feel like the more you do it, if you are rapping every day, each and every hour you will be a pro," said Femi One.
Since the unveiling of her song Hatutaachana, Diana has received tremendous support from her fans and family, garnering more than 721,000 views on YouTube.
"1 Trending on Twitter #1 Trending on blogs #1 Trending on radio & TV Topics #1 Trending on YouTube but they are still shocked because they don't believe it's DIANA B! on such punch lines. I think I need to drop another hot hit rap track for YouTube to believe #1 trending is destined position! Should I drop it now?" wrote Diana.
With her newly launched music career, Diana left many in shock following her performance rate card. Diana's husband Bahati said the singer would be charging Sh850k for performances as an artiste and Sh500k for appearances as a social media influencer.
"Her normal appearance when she is just a vlogger, when she is called for clubs is Sh500k so the management rated her performance rate at Sh850k now per show," said Bahati.
Responding to netizens' reactions over her rate card, Diana asked: "Why are people shocked at my rate card? Just Ksh 850,000? Kwani wasanii wanalipangwa pesa ngapi? For bookings call my management. Diana B on this!" she wrote."