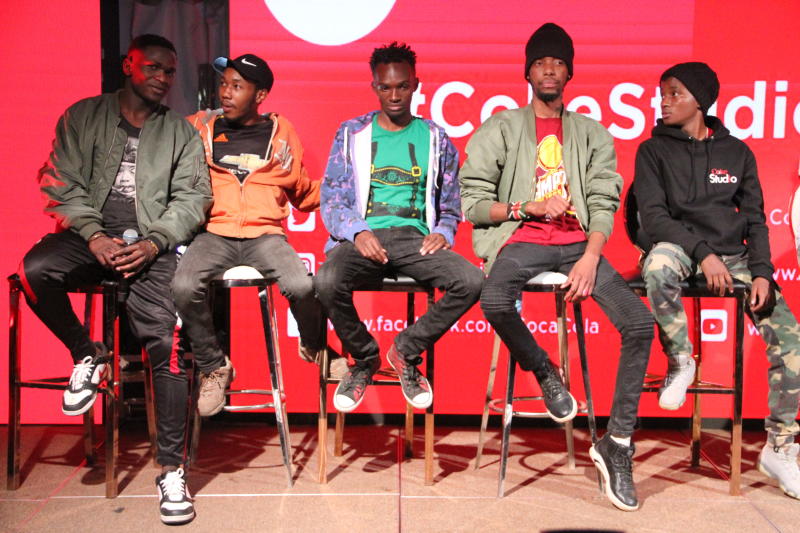 What was termed as the saving grace for the Kenyan music industry needs a saving grace itself.
"Gengetone died a silent death," quipped one Twitter user who set the ball rolling and opened up the matter for discussion. We do not wish to be prophets of doom, but let us dissect, dismember, and analyse the now infamous sound and see where the dynamics changed, and the rain started beating the industry.
Gengetone is a Kenyan genre that evolved from Genge, the hip hop sub-genre born out of California-based Calif Records, which had acts such as Nonini and Jua Cali.
The sub-genre died once its luminaries stopped producing music. Actually, at that point in time, Kenya's entertainment scene was bereft of content, not talent. We still had the likes of award-winning band Sauti Sol, but due to the lack of Kenyan music, we turned to Naija and Bongo for entertainment.
At the very least, each of the Kenyan traditional cultures, irrespective of the tribe, has a heritage of music; from the Taarab of the Coastal people to Mugithi of the Agikuyu community - can we possibly say Gengetone is for Eastlands community? (pun intended). This genre came into play when the push for #playKe was rife on the socials.
The evolution came just like Covid and slowly caught up with everyone from every corner of the nation. Uptown kids jumped onto the bandwagon and what appeared as a hood mentality became a national phenomenon.
Subscribe to Our Newsletter
Subscribe to our newsletter and stay updated on the latest developments and special offers!
Kenyans have on numerous occasions been accused of not supporting their own sound and consolidating their identity in matters music. We had the likes of Genge and Kapuka, which many music lovers identified with and felt represented. Slowly, the infiltration of Bongo flava and Naija music took over the airwaves and brought a complete overhaul of the local music industry. Before we knew it Kenya had lost its identity in the music world. However, the same was saved by the birth of Gengetone, which many claimed had redeemed the industry.
Importantly, it reignited the love for Kenyan music among fans. It isn't a coincidence that after the meteoric rise of Gengetone, media houses, which had for years shunned Kenyan music in favour of Nigerian and Tanzanian hits, also took notice of consumers' shifting tastes and began adjusting their playlists accordingly.
When the then 'infamous' turned club banger 'Lamba Lolo' by the group Ethic Entertainment hit the Internet, the group became an instant sensation, with everybody singing bar after bar. In as much as many loathed the idea and looked down upon the four young boys with their low budget video and almost poorly mastered song, days later, the song blew up and went viral with their numbers drastically soaring to millions.
This brought about the birth of artistes such as Ochunglo family, Rico Gang, Boondocks Gang, Team Kata Tenje, G-Rock Music, Sailors Gang, Mob K, Fat Boy Gwaash and Ssaru, to name but a few. Truth be told, Kenya's music industry deserved a wake-up call and the timing for Gengetone gave us a much needed breather and a new perspective. But as fate would have it, the sound received more hate than love.
It received more backlash than support, was treated to all cadres of ratchetness and vulgarity; the shrewd lyrics coupled with some scantily dressed wannabe video-vixens trying to shake what their 'mothers didn't give them' were forced down our throats and literally slapped on our faces.
A move that KFCB head honcho Ezekiel Mutua was against from the word go. He actually went ahead and questioned the sanity of both the singers and their parents. "Those kids who do Kidungi and Mbogi Genje or whatever ni watoto wa nani? Are their parents proud of them? Those kids who sing dirty things or post their nudes on social media, whose kids are they? Don't they have parents," posed Dr Mutua.
A ticking time bomb if you will. Their clout soon died and the groups slowly started parting ways. Ochunglo Family is the most recent group to hit the headlines after they confirmed their split in order to focus on solo projects. It now seems that this trend is the drift of Gengetone artistes, when Sailors member Shalkido dropped a Mugithi song, Ngunde Ngurume. The song loosely translates to 'get drunk till you crawl' and is pretty much a Kikuyu rendition of the group's (Sailors) song Kulewa Kuchuchuma.
Though not exactly clear they were clout chasing, Lexxy young also changed camp and jumped into the gospel bandwagon after he got saved and denounced the ways of the world. The groups are not as intact as they were before. Rekless, of Ethic Entertainment led the way as he is known for doing major collaborations as a solo artiste such as Sota featuring Mejja, Aaaih featuring Willy Paul, among others. Swat of the same group has also dropped a couple of solo projects such as Gari Kubwa, which goes in line with his newly acquired bully figure. These are just a few examples.
The dynamics of commercialising and monetising such videos were not given a priority. With good beats and a smartphone, one would pass for a musician.
Hood mentality has also largely seen many groups dissolving as their unprecedented popularity, a few thousand shillings, and girls soon got into their heads then boom -- egos the size of a house came into the picture. The artistes adopted a different arrogant persona with little if any regard for time keeping. Many are the times Gengetone artistes got late for booked interviews, turned them down or couldn't simply hold a sober conversation. The biggest culprits were journalists, radio and TV presenters. Before long, corporates, who aimed at capitalising on brand influence with the newly acquired fame that was attracting millions, were met with a different face with most complaining of the artistes' inability to deliver or honour agreements.
"Working as a group is a bit tricky and intense as you have to adjust and streamline all the members' calendar so as to come up with sellable content. While at it, you should learn the economics of the music industry and know how to put your mouth where your pocket is," advises Skoko of the famous award-winning band, H_art The Band.
The infiltration of Amapiano sound has also dealt a big blow to Gengetone as a great deal of music lovers abandon the once revered Kenyan sound. The major foreign takeover in the local airwaves is courtesy of Amapiano - a music genre of South African descent. As is characteristic of the Kenyan music scene, the reception to the genre has been utterly profound, with urban radio stations and recreational joints according Amapiano hits massive airplay.
Lack of good management is also to blame as we saw tens of claims of manager-artistes' squabbles, with some falling out with their managers and the latter refusing with YouTube login credentials. Before long, feuds over copyright, ownership and stealing of content were rife. Two groups, Mbogi Genje and Gotta City from two neighbouring hoods were up in arms against each other. So nasty was their beef with Madocho that security officials and local leaders had to be involved to calm ensuing tension. However, Madocho seems to have disappeared into thin air faster than he rose.
Did these young-ins toss themselves into the murky path that is the music industry without giving it much thought? We leave that to you.