Entertainment
Jalang'o says ready to forgive artiste for 'making him look bad'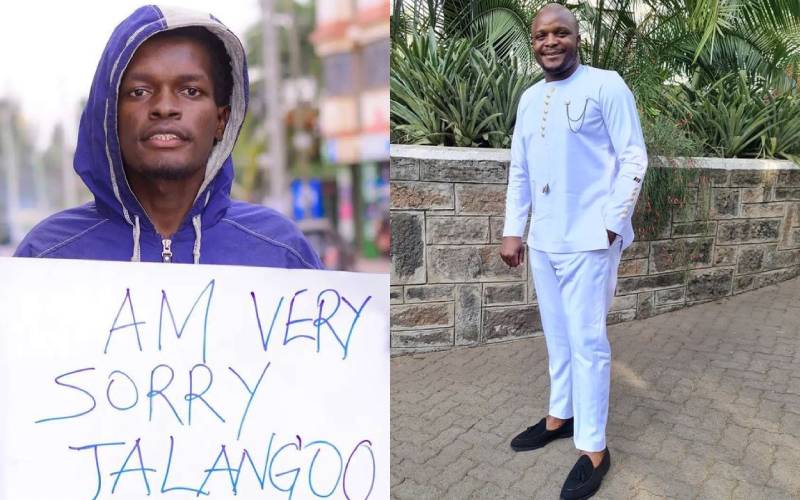 Media personality Jalang'o has pardoned Vincent Mboya, a 21-year-old upcoming artiste who had pleaded for his financial assistance only for him to trash his name later.
Speaking recently, the comedian said he was ready to forgive Mboya for the humiliation and unnecessary drama.
However, the radio presenter warned the upcoming singer against using his name for mileage, saying his actions have hurt his reputation.
"As your big brother, I can easily tell you, go out there and work out your life if you know what that means. Do you know what that means? Have a good day Mboya, I have forgiven you. This is the last I should hear you talk about me. This is the last time I should see you following me around with placards. You are making me look bad and I am not that kind of a person," wrote Jalang'o.
Speaking in a previous local YouTube channel, Mboya threatened to refund Jalang'o's Sh18k sent to him to clear his rent arrears because he told him to "work his *** off."
"I was so disappointed. I am grateful that he helped me, but I do not think telling me 'work your a** off' was necessary."
"If the 48 hours elapse before Jalang'o comes for his money, then I will look for a way of making sure he gets his money back," he said.
"I am advising him as his small brother. He is getting into politics and he should avoid curse words. He should be humble," added Mboya.
In a rejoinder, Jalang'o  said he had not received any money from the younger man.
"I have just spoken to this boy to stop using my name in his pursuit of fame! This is an edited message. I can confirm to you that there is no money he has sent me. But I hope one day he will learn that there are people wishing to get this money that I honestly gave him. I cannot imagine that this is the same boy who came crying and has just turned to be a monster! I have warned him against using my name for clout," Jalang'o wrote.