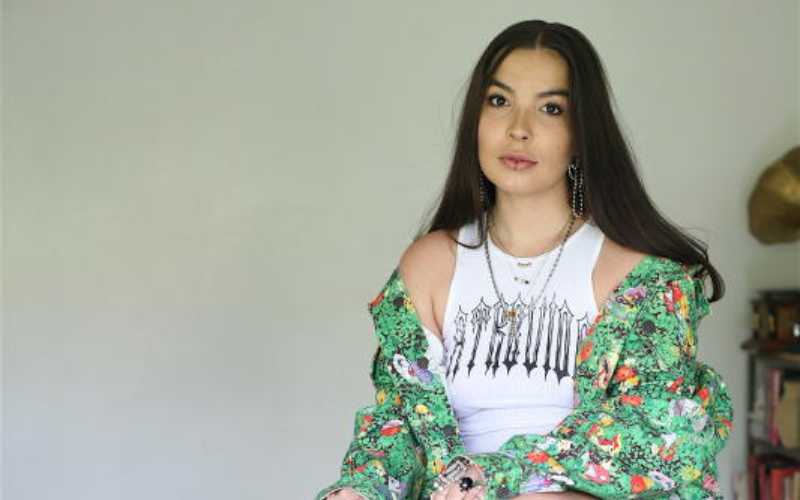 If you are familiar with the alternative music, arts and creative scene, you probably know or have heard of 'Lo'. Lauren 'Lo' Torrez is the genre-bending rebel artist that has a knack in set-design, style, jewellery, photography and much more as I found out.
She is the brainchild behind some of the most iconic girls creative direction and looks - Karun, Xeniah Manasseh, Valerie Muthoni and Le Ru, just to name a few.
From big budget productions such as adverts (Sky Girls), to music videos and photoshoots, she dabbles between A-listers to underground and up and coming homies, trying to put them on. The gorge gets her hands dirty, and is not the bossy type to just call shots from the director's seat.
She is as pretty as they come, and since settling in Nairobi, she is one of the most sought-for creative minds in the game right now, as clients line up for her raunchy non-binary yet thoughtfully arranged aesthetic.
'Catch A Vibe' by Karun, or 'Lowkey' by Xenia Manasseh are some of her most recent and top notch set designs you may have come across.
With the surge in nude mania in young Nairobi artists' work currently, is she championing nude art era in Nairobi though? A peek through her Instagram will make you curious of why her ideas are body-forward pieces of art.
She is quite the intellectual and in-depth being you would not predict going by her imagery. Her art stems from a deep place: "To me, nudity is the most natural and beautiful state of being, but for a long time – it wasn't. I had to unlearn the heavy shame that is created around nudity in our society. In my explorations of sexuality/nudity/shame I found that many of the stigmas we carry about our bodies are not only rooted in the patriarchy but also in colonialism and racism."
Lo adds, "Owning our nude form – especially through art – can be an act of rebellion. When I create nude images with myself or other women, I aim to make them feel seen, loved and respected as they are – not just as subjects for the male gaze to consume. I do not retouch my images and feel a responsibility to share the beauty of different bodies. I want the world to know that beings –especially women – do not have to be sexual or intellectual or emotional – we are anything and everything!"
The artist does raise a valid point in regard to re-touching images. In a very digital and visual world where we get judged by how we look before we are for how we think, we are probably all guilty of using filters or apps that help alter our images.
The most popular apps today are probably photo apps like Snapchat, Instagram, FaceApp, and the many others that exist to enhance our self-image. Lo is championing self-awareness and self-acceptance.
Does she get backlash for influencing women or the hyper-sexual content that is a lot of the times polarising?
"Luckily, I have gotten a lot of support from the community and there isn't anyone who has verbally attacked me for what I share. I do get a lot of unsolicited messages from men and wish they would not make assumptions based on my content."
She clarifies further that her art is for a good cause and that it is empathetic to a certain degree of the struggles not only women, but the queer community also endure as well, especially when it comes to body insecurities.
"I hope it is (on whether her art is of harmless intent). There is definitely gender-based tension in Nairobi that goes beyond just how men and women treat each other and extends into the treatment of non-binary people as well as the queer community.
Even sharing content as a cisgender woman in a hetero relationship grants me privileges that they are not guaranteed. If I can use my platform and art to empower those people and maybe change society's attitude for the better, I am fortunate."
Lo blatantly admits to taking advantage of her mom's career at the American Airlines, which has contributed to how she has managed to live in multiple countries at a young age.
She moved to Nairobi after a lengthy stay in Uganda, and has been nothing short of 'holistic' since. Her explorer-spirit might tingle once more and she might have to leave behind the beloved capital city Nairobi, but she also consoles with the reality of issues artists are facing here.
"Nairobi is a youthful, dynamic city. The creative scene is so vibrant and talented, it seems easy to connect with other creators and make collaborative visions come wonderfully to life. Unique as it is, I think this represents a fault in the 'hustle' of Nairobi, too," says Lo.
She adds, "Kenyan artists and creatives are more deserving than their current situation. The lack of financial support for creatives in Kenya leads artists to collaborating on projects that they would be well compensated for in other places. There is a lot of work to be done in this space."
Having stayed in Spain, South Africa, Morocco, Uganda, the US, and so many corners of the globe, she thinks Nairobi is special, and that her relationships here have been meaningful.
"I love working with girls!!!! The women I have worked with in Nairobi are just the best. From installations with Fay from @nairobirnb, to campaign shoots with Ria from Lilabare; to music videos with Vallerie, Karun, and Xenia, and even photoshoots with close friends like Pola @hvrmemoirs in my living room, all of the women I have worked with inspire me," says Lo.
The artist is grateful for the deep trust they have in each other's talents and abilities because it translates into a fun environment where "our creativity flows easily and naturally. The best story lies in the dear friendships we have cultivated since working together."