Entertainment
Vera Sidika on surrogacy rumours: I have a video of baby Asia coming out of my stomach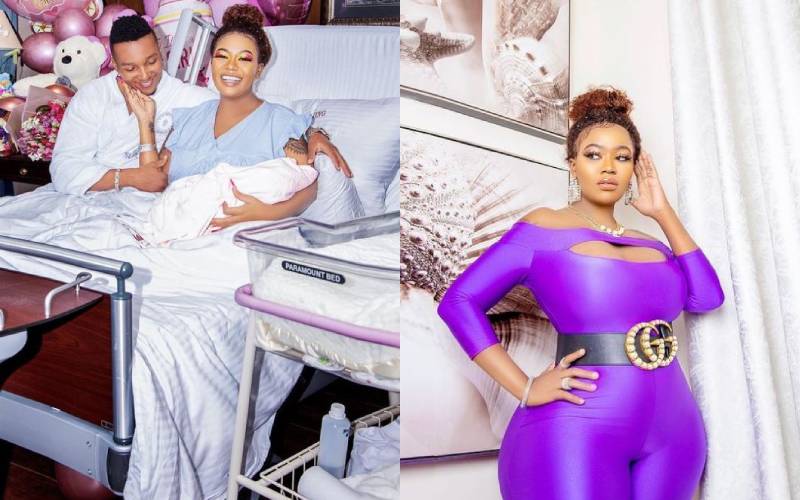 When news first came out that Vera Sidika and partner Brown Mauzo were expecting a baby, a section of netizens was quick to dismiss that her pregnancy was fake.
It's been one month now since Vera gave birth to baby Asia and fans can't wait for her to reveal her baby's face. However, the businesswoman has been teasing her fans via her Instagram stories, only showing baby Asia fully clothed and hiding her face.
On Tuesday morning, the mother of one took a swipe at her haters who claimed that she had a surrogate, asking them to provide proof.
"Huyo surrogate wenu hadi leo hamjawahi mpata? Damn. It's been 10 months of y'all singing surrogate and nobody has ever come out to claim. I even offered the surrogate Sh5million to come out and claim with proof. Nobody ever came out. The Sh5million stayed chilling. Mleteni the claimed surrogate and share the money with her," said Vera and accompanied her statement with a laughing emoji.
Vera even claimed she had a video of baby Asia coming out of her stomach during the caesarean surgery to prove that she indeed gave birth.
"I watch it everyday and smile. Can't wait to show her these videos when she grows up. I actually have full footage of my entire CS surgery. My tummy cut open and baby's head popping out to meet mommy. The most precious experience ever caught on camera," Vera added.
Weeks after the pregnancy announcement in June 2021, Vera said she received all sorts of insults and hate from people, while others claimed she conceived through a surrogate.
"There is nothing I haven't seen or heard in this life…wickedness to a point that someone would spend hours trying to convince people my pregnancy is fake…that I have a surrogate carrying my baby. "It makes me wonder; does it mean that I do not have a uterus to carry my own child or what?" Vera asked while addressing the rumours.
Vera further revealed that some even called her barren since she was yet to carry a child in her womb.
"When I was ready it took God one month and only one trial…boom! I got preggo. The same womb watchers are busy trying to convince you all it is fake.
"Life is interesting but guess what, God also works his ways. He gave me my heart's desire, a girl. Never had a sister and this has always been my wish for years…The God I serve will always be by my side," she wrote.
Vera, often bashed for bleaching her skin, was at some point advised by some of her fans to get a child with a white man if she wanted a mixed-race baby.
While responding to the claims, Vera said, "It is very unfortunate whenever someone writes, 'Oh your baby will be dark or he/she won't be cute because he/she will be dark. So y'all mean dark babies are not cute? It gets me sick to my damn stomach. And what is wrong with dark babies, aren't they human?"